How Do I File for Bankruptcy?
How Do I File for Bankruptcy?
Filing for bankruptcy is not only a stressful time, but it's not something you want to mess up. You only want to have to think about filing for bankruptcy one time, if at all. But don't fret, all is not lost. Bankruptcy may feel like the end of your financial world but there are plenty of things we can do to get you back on track. DebtQuest is a trusted company that can help you repair your credit after filing. Until then, let's take a look at the process and go from there.
Your Bankruptcy Options
First things first, decide which type of bankruptcy you plan on filing, Chapter 7 or Chapter 13. Chapter 7 bankruptcy is where you liquidate all of your assets in order to repay the debt that you owe. If you absolutely have no way of paying back the debt you owe, this would be the route to choose. Just keep in mind that with this option, the bank can seize whatever they'd like in order to even the score, except for items that are necessary for you to live. Chapter 7 won't leave you with much in the end, but you will have a new beginning and a completely clean slate. When we say clean slate, we're not referring to your credit score. This will stay on your credit for the next 10 years and it is the most severe, so to speak, bankruptcy filing option. It also alerts future lenders that you are a very high risk since you didn't pay back any of the debt owed, which means higher interest rates if they do extend a credit line.
More information: Ultimate Guide about Bankruptcy in USA
Chapter 13 bankruptcy is where you pay back some of what is owed so you have some type of reliable income at hand. Your finances are reorganized and a 5 year payment plan is established depending on what you owe and how realistic the payments are. Lenders still see you as a risk going down this route but slightly less of a risk since you are repaying some of your debt. This type of filing stays on your report for 7 years and your credit still does take a hit, but not as much as filing for Chapter 7 bankruptcy. During bankruptcy, you can still work on repairing your credit believe it or not, so reach out to companies like DebtQuest to find out how you can actually improve your score while you're waiting out your 7-10 year negative remark.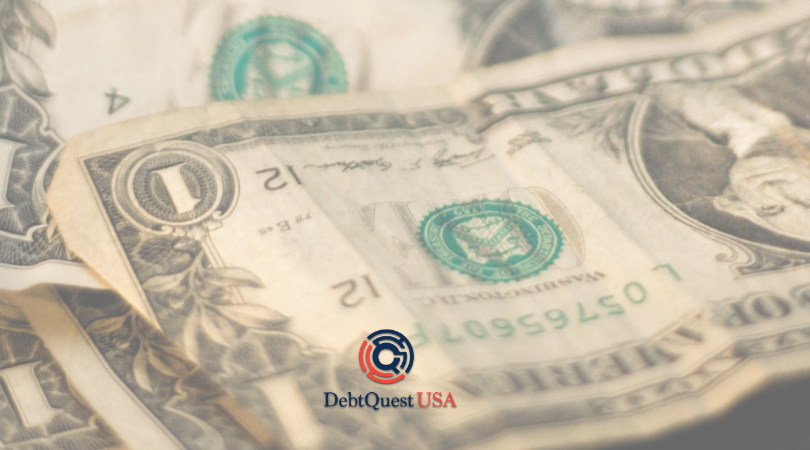 Are You Eligible?
The next step is making sure you're actually eligible to file by passing the means test. After that, begin gathering up all your paperwork and documents. Analyze your debt and determine what exemptions you may have. You need to decide on whether or not you are going to redeem (pay for in one lump sum), reaffirm (continue to pay the initial loan) or surrender (give up to the creditor) each piece of collateral you have used against the loan. Begin to list any property and expense you currently have, all your debts, sources of income which includes pay stubs and tax information, and try to organize prior transactions. Having all of this paperwork gathered up and ready to go will help you as you go through this process.
Whats next
After this, you are required to take a credit counseling course before you officially file. This is meant to help you avoid bankruptcy again in the future, but if you'd like to prepare for the course, feel free to talk to a DebtQuest agent who can go over some of the key points with you. Then there will be a filing fee; if you are unable to pay this even with a repayment plan, you can appeal to waive the fee with proof of serious financial hardship. Then comes the benefit of gathering all of your forms ahead of time; you will need to hand over everything from pay stubs to bank statements to an appointed trustee who will be handling your case. These documents will help prove your need to file bankruptcy. You will most likely have a meeting in court with your trustee which is where you should ask any question you can think of regarding your case. If you have any objections to creditors' claims then this is the time to address them.
Once everything is squared away and you have secured all your debts such as deciding on a payment plan or relinquishing necessary items, you will need to complete a debtor education course. This course may seem trivial, but it MUST be completed in a timely manner otherwise you will have to refile which could become VERY expensive. Once all the loose ends are tied up, the court will discharge your debts and you have successfully filed for bankruptcy.
If you still have questions about filing or are confused about which type of bankruptcy to file and how the process will work, contact DebtQuest today for a consultation to walk you through what you'll need.