What Does Filing for Bankruptcy Do
Bankruptcy can be a scary sounding thing and even the word alone sounds a little ominous. We hear it mentioned in the media and often around big businesses going from major success to bankruptcy. We don't always hear about individuals filing bankruptcy and therefore, we don't really know what it means. Debt can creep up over time, or life events happen that force us into major seasons of debt.
Being in debt can bring up emotions of fear, depression, and frustration. When you have more debt than you know what to do with, you may start looking for options. Bankruptcy is just one of the many options for debt relief in America today. It's not the only option, but for some situations it is the best option.
But, bankruptcy is always a last resort, but once all other avenues are exhausted and there aren't other options, it must be considered. Everyone knows bankruptcy is bad and you want to avoid it, but not everyone really knows what it does and how it affects your future, your credit, and your life.
What is Bankruptcy
Before diving into the nitty gritty details, it is important to understand what bankruptcy is. It's also important to understand that it's not the end of the world when you file for it. Sure it's going to make some things difficult, but it's also going to provide relief in other areas. Just remember that most people encounter financial hardship, or at least some form of it, during their life. You aren't alone and it's okay to turn to companies like DebtQuest for counseling, consolidation, settlements and general financial questions before you make any definitive decisions.
Bankruptcy is the choice you make when you have numerous delinquent accounts and your finances have become unmanageable; you don't have income rolling in and if you do, it's not enough to cover the overwhelming costs. There are different types of bankruptcy and each type affects your credit and future differently; the two most common are Chapter 7 and Chapter 13 bankruptcy.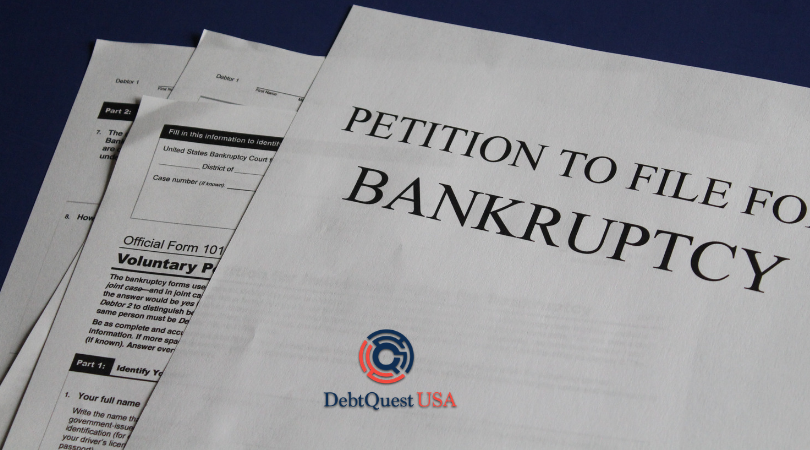 What Is Chapter 7 Bankruptcy?
Chapter 7 bankruptcy is where you liquidate all of your assets in order to repay the debt that you owe. This option is only chosen if you absolutely don't have the finances to pay back any of the debt owed. This option also means that the bank can pretty much take whatever they want except for items that you need in order to live. No, that does not include your Louis Vuitton bag or your Movado watch. It only refers to what is necessary for you to survive, such as a bed, some clothes, and maybe a car if the state chooses to include that in exempt items. So filing for Chapter 7 doesn't leave you with much left over, but it does leave you with a clean slate. It also leaves you with a negative remark on your credit score for the next 10 years.
This type of bankruptcy brings down your score significantly more than Chapter 13 because it indicates that instead of paying off some of your debt you paid off none, portraying you as high risk for future loans. And when you do apply for loans in the future, expect very high interest rates and fees.
This is because future lenders don't know if you are actually going to pay back your borrowed amount according to your history, deeming you a risky investment on their part. For all they know, you may file bankruptcy again and they won't see any of their money.
What Is Chapter 13 Bankruptcy?
The other bankruptcy option is Chapter 13 which involves paying back some of what is owed. Finances are reorganized and a payment plan is established for the next 5 years or so depending on what is owed and what the payments are. Because you are paying off a portion of your debt, this bankruptcy option is the lesser of two evils, so to speak.
Lenders look a bit more favorably on this route because you are paying a certain amount of debt owed to the creditors and not dismissing the debt all together. If you do choose this route, it indicates you have some sort of reliable income at hand in order to repay what is decided upon.
Chapter 13 bankruptcy stays on your report for 7 years instead of 10, but your credit will still go down significantly. Keep in mind that while you are in bankruptcy, creditors cannot collect on any other debt besides the payment you decided on.
Is Bankruptcy is bad idea?
When you file for bankruptcy, no matter which type, you can expect your credit to take a hit. These are not just your standard negative remarks; these remarks will lead creditors to think twice about any type of loans whether that's regarding a car, a business, or a home. For something to stay on your credit report for 7-10 years may not seem like that long to some, but think about how much life can change in just 5 years.
You may not be worried about getting a home loan now, but maybe 7 years from now you decide you want to purchase. It's not going to be impossible, but it's not going to be easy either and it will be costly. DebtQuest is a great option to consult prior to bankruptcy, but they are also a good company to keep in mind for counseling after. Educating yourself on finances is essential so you don't make the same mistakes again. DebtQuest can help you get your finances back in order. Feel free to contact the number below to talk with an agent today.
Declaring Bankruptcy: Scary, But Sometimes Necessary
The word "bankruptcy" alone carries a scary connotation, but it can be a very helpful process for many of those dealing with mountains of debt. The government has these laws and programs to help protect creditors AND debtors.
Arming yourself with the information you need, and finding trusted experts to help you with your debt is one of the best things you can do when you are feeling overwhelmed by debt.
Is Bankruptcy the Only Option?
Bankruptcy can be a great option for many people, but it's not your only option. At Debt Quest USA, we have a variety to programs we can help you consider as you think through your situation. Many of these include debt settlement, debt consolidation, and more. If you have questions, stop losing sleep at night and get real answers from trusted experts!
If you are thinking about debt relief options, you might want to ask yourself a few questions to see if you are ready to talk to someone like Debt Quest USA:
Do you know the full amount of your debt, or are you unsure of how much debt you have outstanding?
Do you find yourself making minimum payments on a regular basis for your credit card debt?
Are you getting calls from bill collectors?
Do you feel scared or out of control about your finances?
Do you feel confused about what your options are?
If you answered yes to any of the questions above, odds are you could benefit from talking to a debt relief company like Debt Quest USA. Our primary focus is education and in wanting you to get the facts before making a decision. We want to help empower you to take control of your finances and help you understand the various options you have to do so.