Is Debt Relief Bad?
Is Debt Relief Bad?
Many people are wondering: "How much does debt relief hurt your credit?" Chances are if you are looking into debt-relief options, your credit has already been hurt in some way. However, it is up to you to prevent additional damages.
With debt relief, it can go either way. Depending on the option you choose and the outstanding debt, your credit score will be affected differently. But the sooner you face the problem, the better. So, instead of worrying about whether debt relief will hurt your credit, you can select a method that works for you.
What Is A FICO Credit Score?
Before we explore the available options and whether debt relief affects your credit, let's figure out the basics of this term. FICO, or Fair Isaac, credit scores are used to quantify and evaluate a person's creditworthiness. FICO scores are updated, from time to time, and are based on your annual credit history report.
The scores range from the lowest possible figure of 300 to a perfect 850. Instances of falling on either end of the score are very rare, with the majority falling somewhere between 600 and 700. Scores above mid-600 are not particularly hard to achieve, and yet, they are considered as acceptable/good. If you manage to go beyond 750, it can be considered an accomplishment.
There many things determining the final score, here are the most important credit history events and actions:
Timely payment history. The more responsible you are with monthly payments, the higher your score gets.
Credit card statistics. Even if you are not an avid credit card user, it is recommended to use them from time to time. Also, the mix of different kinds of credit will have a positive effect.
Credit card balance. If you maintain a consistently high balance, it won't help your score.
Frequency of credit checks. The more often lenders check your credit, the more it indicates that you are a credit risk.
Bankruptcies or settled accounts information.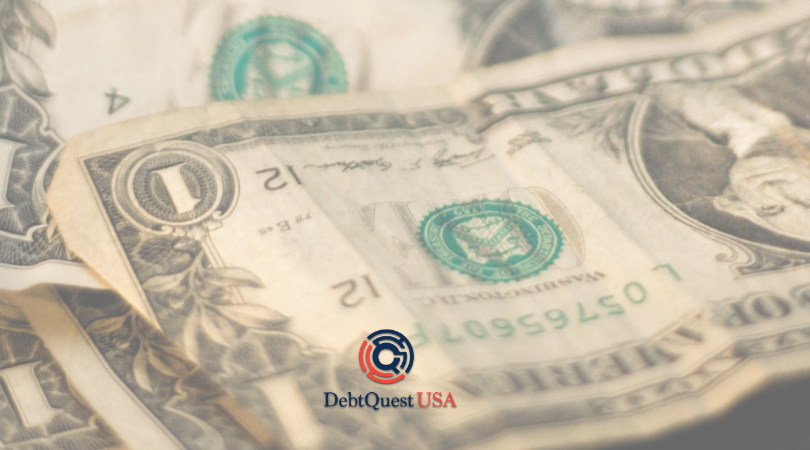 How Do Debt Relief Plans Affect Your Credit?
After submitting an accepted tax return online, the customer will be alerted and approved by the Internal Revenue Service. This does not mean that the department is through with reviewing your return, only that the IRS has not found any obvious issues causing it to be denied. The agency still has to finish the review of your reports and go over your statistics.

Debt Settlement
There are concerns regarding the potential damages a debt settlement can have on your credit. In reality, how does debt settlement affect your credit?
The point of a settlement company is to conduct negotiations on your behalf. Typically, they request you to stop paying to a financial institution at that time. While there is a risk of hurting your payment history, a credible company will ensure the best outcome possible. Also, you should bear in mind the tax implications caused by this method.
The company targets the process of lowering or eliminating the amount you owe to the creditor. While improving your credit score is not the immediate concern of debt settlement, it is associated with certain secondary gains. In any case, you should treat the possibility of missing payments responsibly. And most importantly, it should be dealt with by the company you can put your full trust in, such as DebtQuest.
Debt Management
How does debt relief affect your credit when it comes to debt management? Fortunately, this method can be considered as one of the least invasive debt relief options. In this case, the credit counselor rearranges your payment plan in a way that will fit your needs.
Once you agree on a new payment schedule, the important thing is to follow it precisely. Provided you adhere to this requirement; your credit score will not be saved but potentially improved.
Debt Consolidation
This option presents another way to achieve debt relief, with minimal, to no damage to your credit. However, debt consolidation essentially incurs taking a new loan or credit card, which is why it may lead to a hard inquiry. Too many hard inquiries, in a short period of time, may become a concern to future lenders.
As long as you manage other factors, such as your payment history and credit utilization rate, the effect should be temporary. Work toward paying all of your bills on time every month and paying off credit card debt as quickly as possible. Another piece of advice would be not to apply for additional cards until your debt has been fully sorted out.

Bankruptcy
Lastly, there is the option of declaring bankruptcy. Out of all of the methods, this one is the most invasive to your credit score. You may worry about how much debt relief hurts your credit, but bankruptcy is the least preferable option. Not only will it plummet your credits score, but it remains a part of your credit history for seven to 10 years. Make a final decision only after all other possible options have been exhausted.
Choosing the Right Debt Relief Option
Does debt relief affect your credit score if you make the right choice? Considering the different kinds of debt relief programs and varying implications, there is a lot to take in. To make the process less stressful, it makes sense to delegate this burden to professionals.
If you work through debt management or debt consolidation plan with a specialist, it may have the best effect on your score. Firstly, when you agree on the repayment conditions, you will successfully pay off the debt sooner. Secondly, you can see your score improve because of timely payments and the absence of debt.
What to Do After Debt Settlement
The short answer to, "Do debt relief companies hurt your credit?" is – it depends. Some of the methods are particularly effective in terms of getting rid of the debt. However, they often have a stronger impact on your score and not always in a positive way. Needless to say, if you have accumulated substantial debt, winning back your financial freedom will require some sacrifices.
The important piece is what you do after you recover from it. It would be smart to receive a consultation on how to avoid a similar situation in the future. The more you use credit cards or loans, the quicker you will rebuild your score. If you keep making small but steady changes responsibly, you will leave all your financial burdens in the past.